Posted by admin in : Ruth, Testimonials , comments closed
Birgitte Spoorendonk
Vamdrup, Denmark
Dear Friends of Ruth,
According to Ira, I must have meant something to Ruth at a time when she had difficulties with her life. I did not do much but I happened to be at the right place at the right moment. We met at the grocery store. She was looking for sauerkraut. This is not a common dish in Denmark so I told her to look in a shop for specialties. We had a little chat, but I felt she needed a bit of comfort, so I asked her to come and see me, which she did. She met my dear husband, children, and their fiancés. When my daughter married, Ruth was going to attend, but she took a train and didn't find the church. So she came to our home bringing a gift: six small glasses of her own, probably from Poland or the U.S.
In the meantime Ruth lost her mother and her husband left her. She had some Greek and Danish friends who were involved in Greek politics. She had to move several times. Even if her belongings were few, I remember once when my husband was helping her, he complained about her many books. I remember taking her to Hamlet's castle in Kronborg with a group of Danes. (I was a guide back then.)
Ruth returned to New York. In 1980 my girlfriend Agnes and I made a trip to America. We were supposed to meet Ruth at LaGuardia Airport. We waited and waited; but finally I had to call. "Oh dear, didn't you get my message?" Ruth had bought a couch for our arrival but it could be delivered only at the same time as we were arriving. She had called the airport and asked the information desk to tell us to take a bus. I had paid no attention to the loudspeaker since they are so difficult to understand. It was quite late when we arrived at Ruth's flat. "What would you like to eat?" she said. "Well, what have you got?" "I am going to get something," was the answer. "Now? At this time of day (10 pm)?" "Birgitte, you are in America!" Ruth declared. In Denmark, shop hours were from 8 am until 5:30 pm and Saturdays to 2 pm. Other hours were unthinkable.
Ruth was a good host. She took us by hand around Manhattan, and to the Empire State Building where she worked, and one day we toured with her friend Paula Gronska. She enjoyed having us and wanted to show us that she could manage her life again.
My beloved husband passed away February 17, 2007, exactly a year before Ruth. I wish those attending the memorial a meaningful day.
Posted by admin in : Ruth, Testimonials , comments closed
Dr. Krystyna Domurat Warsaw, Poland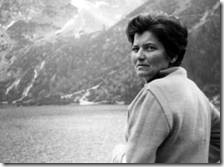 Ruth was my close friend for many years. We met in a sanatorium in Ciechocinek. She worked in the editor's office of Polish Radio and I worked for the Polish Academy of Science. Beyond our friendship we translated together into English some research work. Thank goodness Ruth's research was faultless and invaluable in the international scientific market.
During Ruth's stay in Poland, we spent a few holidays together, mostly in the mountains. After her departure from Poland, I visited with her in Copenhagen, where I stayed for a month in 1971. Some time after she returned to the U.S., Ruth invited me to New York, where she came to live with her second husband, Ira Gollobin.
In spite of a huge distance, our friendship was still favorable and hearty and we were keeping up with correspondence and phone calls. It is very sad to me that Ruth is gone.
Posted by admin in : Ruth, Testimonials , comments closed
Barry Clayton, London, England
I first met Ruth in the '60s in Warsaw. The crisscrossing jumble of our lives brought us together in adjacent offices in the English Section of Polish Radio. She had arrived in Poland from the McCarthyism which was America from the mid-'50s onwards: "Are you now — or have you ever been….?" I was an actor who wanted to be a film director. Working in radio was a stepping stone — or at least so I hoped. Ruth seemed a rather somber woman who had lived through a lot in America. Finding sanctuary in Poland was not easy for her. She found the local language difficult to get to grips with and some of the customs seemed strange to her. As a left-wing American she had not expected the Catholic Church to have such power and influence in what was supposed to be a communist country. Ruth's own family had been forced to leave Poland during the czarist pogroms. Whilst she seemed to appreciate the irony of her returning to Eastern Europe, her situation made her somewhat prickly. I think she was haunted by ghosts from her own family's past and memories of the victims of fascism in Poland during the Second World War. Even though a stranger in a strange land, she decided to make of her situation the best she could. And to a certain extent she succeeded.
Toward the end of the '60s, with many other Jewish people who were forced to leave the country, Ruth became another victim — this time of Polish anti-Semitism. Old myths, fears, and hatreds die hard, now as then.
Ruth spent a few years in Denmark. Then the opportunity arose for her to return to the United States, where she met Ira. With him she found the happiness she had always sought … though as usual it was a rather muted happiness, but very real. I'm sure we will all remember her with great warmth.
Posted by admin in : Ruth, Testimonials , comments closed
Jan Gronski, wife Ping Ping, and children Natasha and Jessica Shanghai, China
Dear Friends,
I met Ruth for the first time somewhere in Poland. Most likely it was in our own house, as my mother liked to entertain a lot and almost every evening there were some friends or acquaintance who would show up for supper. I remember that Ruth emigrated to Poland under very difficult circumstances. She was following her husband, who needed to come and settle there. Needless to say, emigration is a difficult thing. Many of you (or your parents) experienced it. Coming to a strange country with no knowledge of the language requires indeed a lot of courage. After a little while Ruth settled in and found a job — as I remember it (my memory might be faulty) — within the American section of Polish Radio.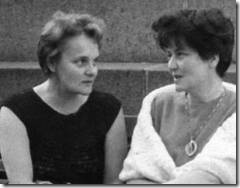 My mother, herself an employee of Polish Radio, met Ruth there. By the time I met Ruth she already had a fair understanding and mastery of spoken Polish. This is not a minor accomplishment. Anyone who has tried to wander through the maze of nasal vowels and sibilant consonants will attest to that. Little wonder that she so gracefully, albeit not without some painful moments, settled in Poland. My memories of that time, me being still a child, are rather hazy and so I do not exactly recall the circumstances under which she and her mother left Poland and emigrated to Denmark. All I know is that after reaching Denmark, her mother passed away, suffering from Alzheimer's, the disease that eventually afflicted Ruth.
Most of my memories of Ruth come from the period when my mother rediscovered Ruth in New York. Ruth was always interested in politics. I remember that many a time she impressed me with her deep understanding of the political situation in the United States. We did not always agree, but she always helped me understand this place a little better. Ruth was a good friend and she was a person with a profound understanding and empathy for others. Her friendship and her interest in me, my wife, and my children were deeply touching. She always had a good word for us as well as a word of advice for me regarding my relationship with my mother. To me her relationship with Ira was a shining example of how people should support each other: loving, respectful, and always supportive of each other. When the news came that Ruth was in the hospital I was shocked, but an even bigger shock came when, just as I was thinking of calling Ira, I received an e-mail from Ira's daughter Ruth about Ira's passing. I had known Ira almost as long as my mother did. I thought that he was the most remarkable human being. His vitality, good humor, and mental clarity were an example for me that you can be a complete human being at 96. I was looking to talk to him more about my experiences in China and was curious about what he was writing about. I thought that he took Ruth's passing so well and it seemed like he had decided to double his exercise and write. He seemed immortal.
Ira and Ruth seemed to be so eternal. Although I will miss Ruth and Ira dearly, I am also happy for them that their departure was swift and peaceful. All of us have to go one day. We will miss you, Ira, your sense of humor, your incisiveness, and, not least, your lasting interest in the life of common people. We will miss you, Ruth, your keen mind, your commitment to your friends, your kind heart, and your wonderful personality.