Posted by admin in : Ira, Ruth, Testimonials , comments closed
Erwin Marquit
Minneapolis, Minnesota
As members of the U.S. émigré/deportee community, Ruth and I were good friends in Poland from the time of her arrival until I returned to the U.S. in 1963. My wife and I were in  contact with her during my sabbatical in Copenhagen in 1971/72. Ruth would often take care of our teenage children when we traveled without them. I then met her occasionally in New York at the annual Socialist Scholar's conferences.
I first met Ira in June 2000, when I interviewed him in connection with a history I was writing about the G. I. demobilization demonstrations in January 1946. He was one of the principal organizers of the demonstrations in Manilla (I had taken part in the demonstrations in Hawaii).
If I were able to attend the memorial, I would recount one rather surprising exchange with him, considering his age at the time of the interview. At the end of the interview, he asked me, "Who are you going cite as the source of this information?" "You, of course," I replied. "Oh, no!" he said, "I'm still practicing." 
When I published the history in the journal Nature, Society, and Thought (Vol. 15, no. 1 [2002], pp. 5-39), I referred to him only with the pseudonym "John David," explaining in a note that he did not want to be identified by his real name. Hero to me that he remains, I assume there will be no objection to my publishing an "update" note giving his true name so he can have full credit for his contribution to the demonstrations.
Posted by admin in : Ira, Ruth, Testimonials , comments closed
Josh Lipschutz
Bala Cynwyd, PA
Sitting in Shul two weeks ago with my parents, Mike and Linda Lipschutz, my wife Lisa and our three children, Hannah, Benjamin, and, as of one month ago, Jacob, I was inspired by a passage. I hadn't planned on saying anything today, content to let my mom, Ira's niece, the daughter of Ira's sister Beatrice, represent the family; however, I think this is worth telling.
The section of the Bible we were reading two weeks ago was Hukkat, and there were several notable deaths in that chapter, including Miriam, Moses's sister, and Aaron, the high priest and Moses's brother. As it is written in Numbers 20:24, when the Israelites reached Mount Hor, which was next to the Promised Land, which neither Moses nor Aaron were going to be allowed to enter, G-d said to Moses and Aaron, "Yaasafe Aaron el-Amo". The Hebrew is translated as, "Let Aaron be gathered to his kin…" The commentary in the Etz Hayim Chumush interprets this as "Let his good qualities now enter the souls of those living who knew him, that those qualities not be lost after his death." And I think that's what we are doing here today. We are letting the good qualities of Ira and Ruth now enter the souls of those who knew them, that these qualities not be lost even after their deaths.
And what are those qualities? I'll mention a few that stand out for me. I remember Ruth as a woman who loved the world. It has been said that anybody who is not a Communist at age 18 doesn't have a heart. Ruth had a great heart and, I believe, remained a Communist, in the best sense of the word, long after age 18. I remember telling her after 9/11, that I was joining the army, and her getting very upset and crying. Even though I was joining as a doctor, she hated the concept of armies and war. The world needs people like her.
And Ira, ah, so many good qualities. To mention a few, he was a brilliant thinker and the father of a new field of law, Immigration Law, which I'm sure others, who are expert in this area, will tell you more about. Ira was also a dedicated family man and always kept in close contact with the exiled Indiana branch of my family. Though advanced in years and somewhat frail, Ira and Ruth made the trek to San Francisco for my wedding in December of 2000.
Interestingly, sometimes public and private worlds collide. At our wedding, my wife's Aunt, Barbara Hines, who is a Professor of Immigration Law at UT Austin, met Ira and remarked that it was like meeting a legend. So to paraphrase that greatest of books, the Bible, "Yaasafe Ira Varut el-Amo." Let Ira and Ruth be gathered to their kin.
Posted by admin in : Ira, Testimonials , comments closed
Guy Sansaricq
Roman Catholic Auxiliary Bishop of Brooklyn,
National Director of the Haitian Apostolate
Brooklyn, NY
Dear Ira,
I do not contact you easily yet I assure you that you are one of the people that I hold in highest esteem and affection. Your total dedication to the cause of Haitians has always deeply inspired me. You are a man with a big heart.
I feel very close to you as you mourn the departure of your good wife Ruth. It's one of those moments in life that we dread but cannot prevent.
I do not dare offer you any special reflection or advice, as I know you are a wise man who certainly has his own appreciation of life's moments.
I simply want you to know that in your large circle of admirers there is also one in Brooklyn who values you as a true friend and feels very close to you these days.
Posted by admin in : Ira, Testimonials , comments closed
Claire Hirsch, Los Angeles, CA
Dear Ruth [Gollobin-Basta],
You asked me about the background of my husband Dino's and Ira's friendship and I told you it would take too long to tell you when I was in New York. I want to tell you again how much it meant to me to stay in his apartment; to be surrounded by the marvelous library that was the background to all the thinking, writing, and teaching that he did!
Dino was an "armchair Marxist" and went to jail for having committed a capitalist crime in the export business which he had learned from his father in Italy. When he came home after having served eleven months of a "year and a day" sentence, he was confronted with deportation proceedings. It was then that he met your Dad because of a referral from a bail bondsman.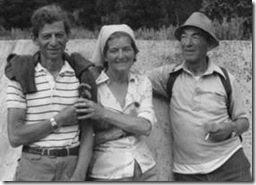 It was a lucky circumstance that he found Ira to defend him. They became friends soon (more like teacher and student in the beginning). They met every month or so in a restaurant in Greenwich Village and would talk. I soon joined them and at first was in awe at the level of their discussions!
Ira suggested to Dino that his condition in this country was not about to change, so he might as well get involved in trying to change things. He soon became active in his union and remained an activist until the day he died. Your mother Esther and I became close friends through our activity in the U.S.-China People's Friendship Association.
After we moved to California we continued to stay in touch, at first with visits to New York and then their final visit to L.A. when we drove them to Mexico to seek a cure for your mom's cancer. We were happy to welcome him to Aspen, Colorado, where we spent several of the most wonderful hiking vacations together, first with him alone and then joined by his [second] wife Ruth.
We talked by phone often and he managed to set into perspective whatever was going on in the world at the moment until a few months ago. I shall miss him sorely but am happy to have benefited from his friendship and knowledge for so many years!
Posted by admin in : Ira, Testimonials , comments closed
Joel Truman
New York, NY
Ira was a wonderful person and dear friend to me and my wife Sara. We miss him greatly but take consolation in knowing that he was healthy until the very end. We will always cherish his strong commitment to making the world a better place for the disadvantaged.
Posted by admin in : Ira, Ruth, Testimonials , comments closed
Judith Mahoney Pasternak, New York, NY
Ruth
Impossible to believe my 35-year-long conversation with Ruth is over! I was part of her extended family — my mother, Bea Kelvin, is her step-cousin and, though not related by blood, was close to her from Ruth's childhood on. Ruth was out of the country in my youth, but from the time she returned in the early '70s, we talked often and about almost everything, although always returning, in the end, to politics. Her fierce, wide-ranging curiosity made those discussions different from conversations with anyone else.
Ira
A great advocate who spent sixty-plus years defending the rights of immigrants and radicals, Ira was also a warm and gentle man, a serious thinker, and a good friend and relative. My family is glad for the years we knew him.
We'll miss both of them.
Posted by admin in : Ira, Testimonials , comments closed
Sara Lustigman
New York, NY
I first met Ira in his office on Broadway in the early '90s when I wanted to ask for his help in obtaining a green card. After explaining my situation, Ira gave me a very careful and professional explanation of how we would go about applying for it. As I got ready to leave, Ira stepped around his desk and gave me a big hug, letting me know everything would be all right.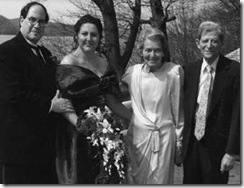 "This is no ordinary New York City lawyer," I thought to myself. My suspicion that I was dealing with a unique individual was confirmed when I asked Ira about his payment policy. Being both new in the City and not making very much money, I needed to know how much cash I would have to provide up front. However, when asked, Ira simply said, "You don't pay anything until I start meeting my milestones at every stage of the green card process." "Wow!" I thought, "The stereotypes about avaricious lawyers seeking billable hours sure don't apply here."
Every time I had a subsequent appointment with Ira, I was greeted with a big hug. Grateful as I was for the reasonableness of Ira's fee schedule, I wasn't fully sure what those hugs meant. But it's a testimony to Ira's sincerity and humaneness that I soon came to cherish them. Visits to Ira, a warm and caring human being, took me away from the pressures of my lab; in those days they were the highlight of my week. I soon became fast friends with Ira and Ruth, who sometimes tried to fix me up with eligible bachelors! Although the matchmaking didn't quite work, after Joel and I married, we continued to get together with Ira and Ruth periodically. It seemed like they always knew the most interesting restaurants and we always had the most stimulating conversations and discussions with them.
It also became apparent that the help that Ira provided to me was far from an isolated case. Not only did he assist several of my friends and colleagues from the New York Blood Center with their immigration needs, it was clear that Ira had helped thousands of people in a similar way, many of them far more disadvantaged than my band of young scientists. Over time, we learned just how much Ira had worked to assist persecuted individuals from all over the world in obtaining asylum. You could always count on him to stand up to the various hysterias of the moment which always seem to target the most vulnerable people in society.
My husband and I are extremely proud and fortunate to have known Ira and Ruth and be considered their friends. We just hope that in a small way we can carry on with their legacy and their spirit.
Posted by admin in : Ira, Testimonials , comments closed
Sue Susman, New York, NY
Dear Ruth [Gollobin-Basta],
Ira was a true mentor to me — encouraging me to go into the field of immigration law, and requiring — as a condition of his tutoring me — that I learn to eat fish and tofu at a particular Chinese restaurant every Tuesday evening. I learned from him legally, politically, culinarily, and otherwise. I may still have his book on the Committee for Protection of the Foreign Born.
You may have heard the tale that he told. While he was having dinner with me each Tuesday evening for many months, your mother Esther was telling him she had met a terrific young man at the U.S.-China People's Friendship Association — my husband Sekhar; so we "double-dated" a few times for dinner. In the years after he married Ruth, he seemed content with her. We met them for dinner once or twice as well and sat next to them at Guild dinners.
I was sorry to hear of Ruth's death, but was devastated to hear of Ira's. I had somehow assumed that with all of his running, swimming, and healthy diet, he would live forever. You have had a wonderful father, mother, and stepmother for a wonderfully long time. I hope Ira left this world peacefully.
Posted by admin in : Ira, Ruth, Testimonials , comments closed
Yuka Hirata and Mark Blackshear
Brooklyn, NY
Ira and Ruth were indeed like my and my wife Yuka's surrogate grandparents. They always treated us kindly. We remember and appreciate the few times we met them for lunch or dinner, as well as the hospitality extended to us at their home. They witnessed our wedding ceremony in December of 2002, and we considered it a great honor.
Ruth was a photography student, and I loved the glee she expressed showing off a portrait of Ira she had taken by a lake at a country retreat. She and Ira were rather proud of it. I totally enjoyed it when Ira would start telling some of his stories; the tales regarding his legal exploits were priceless. I regret the fact that I can no longer enjoy his oral history lessons and his gems of enlightenment.
We remember Ruth and Ira as truly beautiful and loving folks. Yuka and I shared a genuine fondness for them. They made us feel like they felt the same for us — by the way they always smiled and often laughed when we were with them.
Posted by admin in : Ira, Testimonials , comments closed
Michael Lipschutz, Radnor, PA
We had some wonderful interactions with Uncle Ira and his family over the years, but unfortunately fewer than we would have liked because we lived in Indiana for 43 years (plus Bern, Switzerland, and Tel Aviv) until May of this year. One of the most recent, and therefore the freshest in our recollection, occurred about two years ago, when he and Ruth visited us for almost a week in Indiana. The purpose of the trip was to go to Springfield, Illinois, to visit the new Lincoln Museum and Library, and see other sites there, associated with Abraham Lincoln.
As most of you may know, Ira was particularly passionate about Lincoln and his deeds. To be able to show Ira and Ruth the house and neighborhood where Lincoln lived, his law office, and his personal possessions was the greatest of privileges. It was fascinating and truly moving to hear Ira describe Lincoln's actions and decisions, as we were surrounded by Lincoln's physical and spiritual possessions.
When my wife Linda photographed Ira beside Lincoln's life-sized statue, we almost felt that the two were meeting. And that would have been a meeting of two equally great minds.