Posted by admin in : Ira, Testimonials , comments closed
Peter A. Schey, Los Angeles, CA
President & Executive Director, Center for Human Rights and Constitutional Law
[The following was distributed widely via Peter's email list.]
Ira Gollobin, a renowned civil rights and immigration lawyer, who practiced law in New York City for over 70 years, acting as attorney in many high-profile immigration and extradition cases from the 1950s to the 1980s, passed away peacefully this morning in New York, following several days of hospitalization for a staph infection. He was 96 years old.
Ira served on the Board of Directors of the Center for Human Rights and Constitutional Law for 25 years. He was a long-time active member of the National Lawyers Guild. He will be deeply missed by those who were honored to meet and learn from him along his 96-year life journey.
Ira wrote numerous periodical articles on immigration policy, dialectics, East Asia, and Marxist theory. He is the author of Dialectical Materialism: Its Laws, Categories, and Practice (1986), and Winds of Change: An Immigration Lawyer's Perspective of Fifty Years (1987).
Ira's epic book on dialectical materialism is a comprehensive review of Marxist philosophy, integrated into subjects ranging from workers to politics to human consciousness. For those interested in the relationship between history, philosophy, politics, consciousness, and the struggle for freedom, this is a book you want to read. If you use a highlighter, forget it. You'll want to highlight the whole book.
Ira served as general counsel to the American Committee for the Protection of the Foreign Born throughout the McCarthy period. During the Cold War witch-hunt to identify and deport immigrant "communist sympathizers," Ira and the American Committee coordinated the legal defense of immigrant workers, labor leaders, authors, and others for their real or perceived communist beliefs or associations.
In 1980 Ira put together a team of lawyers including Ira Kurzban, Rick Swartz, and me to work on the Haitian Refugee Center v. Smith case. Under his guidance, and with the help of many others, we won a major class-wide injunction that blocked an "expedited deportation program" initiated by the INS headquarters to quickly deport over 5,000 Haitian refugees deemed a "threat" to South Florida. After a class-wide permanent injunction that we won was upheld in the Court of Appeals (Haitian Refugee Center v. Smith, 676 F.2d 1023 [1982]), the first Haitian adjustment act (which Ira and Rick helped draft and get enacted) granted all class members permanent resident status. Ira was the architect of this victory. In the last chapter of his dialectics book, a chapter on wisdom, Ira wrote:
Class society places its imprint on wisdom. The musings of the sage. . . and the guile of the rulers. . . have been acclaimed as wellsprings of wisdom, while the masses' hard-earned experience and insights, gained in labor and class struggle amid a multitude of afflictions, have been denigrated by oppressors as responses, sometimes docile, sometimes violent, of beings little above the level of brutes. On the contrary, as regards the oppressed, those with the most practical experience are the wisest and most capable. All wisdom comes from the masses. . . . The wisdom of tens of millions of creators creates something incomparably higher than the greatest prediction of genius. (Quotations and citations omitted.)
Ira was a unique intellectual adventurer and a lawyer whose passion for justice was easily matched by his clients' love and affection for him. We will miss him, and his guidance, very deeply. We will always treasure what he brought to each of us and to humanity's struggle for emancipation.
Posted by admin in : Ira, Testimonials , comments closed
Ruth Misheloff, New York, NY
I met Ira in the early '80s, I think. His book, Dialectical Materialism, which he'd been working on for over a quarter-century at that point, was still in manuscript, but the end was in sight and he needed a copy editor to help prepare it for publication. He was a very good writer, fluent, strong, precise, supple, yet even the best manuscript needs an outside eye to vet clarity and continuity, catch inconsistencies and typos, query possible citation errors, and mark up headings for the designer. I took on the job happily, figuring not only to make some money but to learn a lot in the process. So I started on what became at least a two-year gig, reading line by line, making marginal notes or attaching post-its, and providing additional sheets of queries. When he returned the first batch of manuscript so I could check the changes, I discovered that while responding to my queries, he'd had fresh thoughts, incarnated as new sentences, new paragraphs, and whole new pages.
And that's what happened with every batch of manuscript I returned to him. It came back to me not only with fixes for the things I'd marked but with elaborations, augmentations, amplifications. I'd comment or query about the new material, of course rereading the old in the process — and then the revised sheets would come back to me amplified yet again!
Ira's partner in producing these endless new versions was his heroic daughter Ruth, who typed every blessed page, over and over. (Remember typing? On a typewriter? And carbons? White-out? Manual cutting and pasting? It's sobering to recall what it took to produce a good and careful book in those days, even with a Selectric! If Ira had had access to a computer, the book might have turned out twice as long, if indeed he would have ever been able to stop….)
Even while realizing how painful it probably was for Ira to separate from a project in which he'd invested so much, eventually I couldn't help chaffing him that he needed a 12-step program to kick his book addiction, and once I may have even conjured up the image of myself and his daughter Ruth as Chaplins on a Modern Times assembly line! He responded goodnaturedly, of course, but was undaunted, and the iterations continued. I began to wonder (silently) if he would experience the authorial version of post-partum depression when he finally turned the manuscript over to the printer.
Ira was an amazing, indefatigable, stalwart, intense, bright-spirited, and dedicated man, and a multi-tasker before the term was invented. One example that has stuck in my mind: when he used to go out running — yes, he did that, too, possibly till he was in his late 80s — he carried index cards with passages of poetry to memorize. Once he "had" the lines, they were his forever. No senior moments for him, at least to my knowledge. He used every second of his time in this world. I can hardly imagine him gone.
Posted by admin in : Ira, Testimonials , comments closed
Claire Hirsch, Los Angeles, CA
Dear Ruth [Gollobin-Basta],
You asked me about the background of my husband Dino's and Ira's friendship and I told you it would take too long to tell you when I was in New York. I want to tell you again how much it meant to me to stay in his apartment; to be surrounded by the marvelous library that was the background to all the thinking, writing, and teaching that he did!
Dino was an "armchair Marxist" and went to jail for having committed a capitalist crime in the export business which he had learned from his father in Italy. When he came home after having served eleven months of a "year and a day" sentence, he was confronted with deportation proceedings. It was then that he met your Dad because of a referral from a bail bondsman.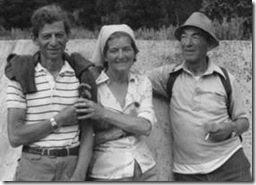 It was a lucky circumstance that he found Ira to defend him. They became friends soon (more like teacher and student in the beginning). They met every month or so in a restaurant in Greenwich Village and would talk. I soon joined them and at first was in awe at the level of their discussions!
Ira suggested to Dino that his condition in this country was not about to change, so he might as well get involved in trying to change things. He soon became active in his union and remained an activist until the day he died. Your mother Esther and I became close friends through our activity in the U.S.-China People's Friendship Association.
After we moved to California we continued to stay in touch, at first with visits to New York and then their final visit to L.A. when we drove them to Mexico to seek a cure for your mom's cancer. We were happy to welcome him to Aspen, Colorado, where we spent several of the most wonderful hiking vacations together, first with him alone and then joined by his [second] wife Ruth.
We talked by phone often and he managed to set into perspective whatever was going on in the world at the moment until a few months ago. I shall miss him sorely but am happy to have benefited from his friendship and knowledge for so many years!
Posted by admin in : Ira, Testimonials , comments closed
Tamara Thompson, Maplewood, NJ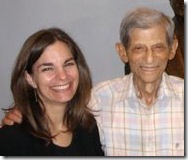 Ira signed my copy of Dialectical Materialism "To Tammi, with affection and esteem — and hope!" I think part of the hope he referred to was that I would one day finish reading The Book. In defense of my very slow progress, I have reasoned that if it took Ira over thirty years to write it, it will take me a while to read, understand, and absorb it.
I have started it, and even met with him several times to discuss what I had read, but to my regret did not finish it before he died.
He would often ask about my progress in reading The Book. I'm convinced that he kept asking not just because he was the author, but because he believed in what he wrote — to his very core. For him it was not just a book or a way of thinking but a way of living. When faced with prostate cancer or a broken ankle, he frequently mentioned how applying the principles laid out in The Book helped him to overcome both conditions and to achieve so much more.
While Ira's achievements were monumental, they weren't the reason I rushed to the hospital to see him when I heard he wasn't expected to live through the night. I didn't love Ira because he had won two Supreme Court cases. I loved him because he was a profoundly decent person who cared for others and consistently showed it. It sounds trite, almost insignificant, but Ira was a man of his word. He said what he meant and meant what he said. He kept his promises.
I humbly assert that what defined Ira was absolute congruency. What Ira believed, he lived; what he said, he did (except for his promise to live to 100, which I'm trying not to hold against him). No substitutes; no shortcuts. Though not a religious person, Ira had profound faith — in people and their ability and responsibility to make the world a better place. He lived his life doing just that — making the world better, more just, more compassionate; a place of welcome and sustenance for all, not just a few.
In Ira we've lost not only a father, friend, and advocate; we've lost a national treasure. I believe that Ira's hope was that in finishing The Book, I would live a more congruent life as well, a life that makes sense in and of this world; a life better equipped to wage true justice and to pick up the struggle where he left off. Here's to Ira, The Book, and living a life of utter integrity!
Posted by admin in : Ira, Ruth, Testimonials , comments closed
Joseph Eger, Pompano Beach, FL
Conductor/Music Director, Symphony for the United Nations
Ruth was a wonderful woman in partnership with a most extraordinary man, a truly great man of any time. What a privilege it has been for me to know them, though in a limited way.
Ruth [Gollobin-Basta] dear, I'm of your family, of the human family Ira represented, for he was one of the most human, like Beethoven. Anyone who experiences either Beethoven or Ira becomes, ipso facto, more human, becomes more of what our species can be, the farthest reaches of our magical species-being. I recall discussing this aspect of music many times with Ira.
I first met Ira via my best friend, Ralph Dale, another giant who revered and respected an even greater giant, your father. Ralph too passed during this year. Now I must think for myself with Ira's Dialectical Materialism in front of me.
I had the great good fortune of having Ira in my home as my guest less than a year ago, but visited him in his office many times, gaining wisdom as I struggled with my book and my unceasing, varied activities to make the world a little better. Ira's wisdom knew no bounds, whether historical, literary, Marxist, or in everyday struggle.
I envy you having had such a father, and give you my love for all of him that is in you. The world is smaller without him.