Posted by admin in : Ira, Testimonials , comments closed
Karen Mallinger
Negaunee, MI
www.allgoodegifts.com
In business, there are some customers who just seem to leave a lasting impression. Ira Gollobin was one of those people.
I first "met" Ira several years ago when he phoned my business. I'm an herbalist, and he was looking for something natural to help with some heart issues. From the very first word, I kept referring to him as "Mr. Gollobin," as something in his voice just seemed to warrant that level of respect. We talked a little while and I explained to him the traditionally accepted properties of hawthorn and some other herbs that might help him. Always the learner, Mr. Gollobin questioned me about the herbs, how long I'd been in business, what went into the making of an herbal tincture, and all manner of things herbal.
After over an hour of conversation, he asked me the price. When I told him, he chuckled and said, "Karen, you'll never become a millionaire that way!" I responded, "Well, Mr. Gollobin, that's not really why I'm doing this. I'm doing it to educate people in alternative ways to stay healthy." There was a short pause, a soft chuckle, and he said, "Karen, you're wonderful."
I didn't hear from him much after that, but stayed current on his condition via one of the best gifts he gave me — a relationship with his lovely daughter Ruth. Every time we spoke, I asked about her father, and she would give me the latest reports. My life is much richer for having experienced Ira Gollobin, if only for a short time. And the world is a little less wonderful without him in it. Godspeed, Mr. Gollobin.
Posted by admin in : Ira, Testimonials , comments closed
Susan Gebel (daughter Ruth's longtime friend)
Brooklyn, NY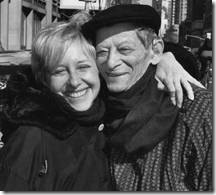 I remember Ira as a kind yet very strong person. He was not a big man, but there was conviction in his gaze. He had a knowing look about him and he made you feel that he really cared about you. He didn't always say that much when there were family gatherings at his daughter Ruth's house, but if you were to have a conversation with him, you had to be on your toes because he was so knowledgeable! Ira wanted to know how things were going with you and really took an interest in you. What I remember most about Ira were his hugs. He may have been wiry and thin, but he gave the best and strongest hugs I've ever had. Ira, you will be missed!
Posted by admin in : Ruth, Testimonials , comments closed
Birgitte Spoorendonk
Vamdrup, Denmark
Dear Friends of Ruth,
According to Ira, I must have meant something to Ruth at a time when she had difficulties with her life. I did not do much but I happened to be at the right place at the right moment. We met at the grocery store. She was looking for sauerkraut. This is not a common dish in Denmark so I told her to look in a shop for specialties. We had a little chat, but I felt she needed a bit of comfort, so I asked her to come and see me, which she did. She met my dear husband, children, and their fiancés. When my daughter married, Ruth was going to attend, but she took a train and didn't find the church. So she came to our home bringing a gift: six small glasses of her own, probably from Poland or the U.S.
In the meantime Ruth lost her mother and her husband left her. She had some Greek and Danish friends who were involved in Greek politics. She had to move several times. Even if her belongings were few, I remember once when my husband was helping her, he complained about her many books. I remember taking her to Hamlet's castle in Kronborg with a group of Danes. (I was a guide back then.)
Ruth returned to New York. In 1980 my girlfriend Agnes and I made a trip to America. We were supposed to meet Ruth at LaGuardia Airport. We waited and waited; but finally I had to call. "Oh dear, didn't you get my message?" Ruth had bought a couch for our arrival but it could be delivered only at the same time as we were arriving. She had called the airport and asked the information desk to tell us to take a bus. I had paid no attention to the loudspeaker since they are so difficult to understand. It was quite late when we arrived at Ruth's flat. "What would you like to eat?" she said. "Well, what have you got?" "I am going to get something," was the answer. "Now? At this time of day (10 pm)?" "Birgitte, you are in America!" Ruth declared. In Denmark, shop hours were from 8 am until 5:30 pm and Saturdays to 2 pm. Other hours were unthinkable.
Ruth was a good host. She took us by hand around Manhattan, and to the Empire State Building where she worked, and one day we toured with her friend Paula Gronska. She enjoyed having us and wanted to show us that she could manage her life again.
My beloved husband passed away February 17, 2007, exactly a year before Ruth. I wish those attending the memorial a meaningful day.
Posted by admin in : Ira, Ruth, Testimonials , comments closed
Erwin Marquit
Minneapolis, Minnesota
As members of the U.S. émigré/deportee community, Ruth and I were good friends in Poland from the time of her arrival until I returned to the U.S. in 1963. My wife and I were in  contact with her during my sabbatical in Copenhagen in 1971/72. Ruth would often take care of our teenage children when we traveled without them. I then met her occasionally in New York at the annual Socialist Scholar's conferences.
I first met Ira in June 2000, when I interviewed him in connection with a history I was writing about the G. I. demobilization demonstrations in January 1946. He was one of the principal organizers of the demonstrations in Manilla (I had taken part in the demonstrations in Hawaii).
If I were able to attend the memorial, I would recount one rather surprising exchange with him, considering his age at the time of the interview. At the end of the interview, he asked me, "Who are you going cite as the source of this information?" "You, of course," I replied. "Oh, no!" he said, "I'm still practicing." 
When I published the history in the journal Nature, Society, and Thought (Vol. 15, no. 1 [2002], pp. 5-39), I referred to him only with the pseudonym "John David," explaining in a note that he did not want to be identified by his real name. Hero to me that he remains, I assume there will be no objection to my publishing an "update" note giving his true name so he can have full credit for his contribution to the demonstrations.
Posted by admin in : Ira, Ruth, Testimonials , comments closed
Josh Lipschutz
Bala Cynwyd, PA
Sitting in Shul two weeks ago with my parents, Mike and Linda Lipschutz, my wife Lisa and our three children, Hannah, Benjamin, and, as of one month ago, Jacob, I was inspired by a passage. I hadn't planned on saying anything today, content to let my mom, Ira's niece, the daughter of Ira's sister Beatrice, represent the family; however, I think this is worth telling.
The section of the Bible we were reading two weeks ago was Hukkat, and there were several notable deaths in that chapter, including Miriam, Moses's sister, and Aaron, the high priest and Moses's brother. As it is written in Numbers 20:24, when the Israelites reached Mount Hor, which was next to the Promised Land, which neither Moses nor Aaron were going to be allowed to enter, G-d said to Moses and Aaron, "Yaasafe Aaron el-Amo". The Hebrew is translated as, "Let Aaron be gathered to his kin…" The commentary in the Etz Hayim Chumush interprets this as "Let his good qualities now enter the souls of those living who knew him, that those qualities not be lost after his death." And I think that's what we are doing here today. We are letting the good qualities of Ira and Ruth now enter the souls of those who knew them, that these qualities not be lost even after their deaths.
And what are those qualities? I'll mention a few that stand out for me. I remember Ruth as a woman who loved the world. It has been said that anybody who is not a Communist at age 18 doesn't have a heart. Ruth had a great heart and, I believe, remained a Communist, in the best sense of the word, long after age 18. I remember telling her after 9/11, that I was joining the army, and her getting very upset and crying. Even though I was joining as a doctor, she hated the concept of armies and war. The world needs people like her.
And Ira, ah, so many good qualities. To mention a few, he was a brilliant thinker and the father of a new field of law, Immigration Law, which I'm sure others, who are expert in this area, will tell you more about. Ira was also a dedicated family man and always kept in close contact with the exiled Indiana branch of my family. Though advanced in years and somewhat frail, Ira and Ruth made the trek to San Francisco for my wedding in December of 2000.
Interestingly, sometimes public and private worlds collide. At our wedding, my wife's Aunt, Barbara Hines, who is a Professor of Immigration Law at UT Austin, met Ira and remarked that it was like meeting a legend. So to paraphrase that greatest of books, the Bible, "Yaasafe Ira Varut el-Amo." Let Ira and Ruth be gathered to their kin.
Posted by admin in : Ira, Testimonials , comments closed
Linda Lowenthal Lipschutz, Radnor, PA
"Highlights" because he was truly one of the two most radiant stars in my personal universe. The other is my husband, Mike, who has a planet, 2641 Lipschutz, named for him.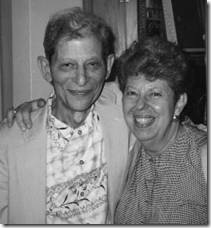 From My Childhood: My first recollection of my Uncle Ira was in his army uniform, in 1942, when he came home after being drafted. His hugs for me were huge, and they have been bear hugs ever since. Uncle Ira was my mother Beatrice's (Basha's) baby brother. She adored him — for his sweetness and for his intellect. When Ira and Ruth married, on June 11, 1994, it was Bea who walked Ira down the aisle to join his bride.
Bringing Up Three Sons in Indiana: Middle-school boys from the Midwest, visiting their Cousin Ruthie alone in the BIG city: this was ENORMOUS. As a parent, I knew that my Uncle Ira and Aunt Esther had raised two incredible daughters.
More Recently: When our oldest son, Josh, married Lisa Hines, in San Francisco, in 2000, Ira and Ruth came all the way across the country to be with us. In June of last year, they came to Indiana for a slew of family celebrations, including Ira's ninety-sixth birthday. Ira told me at that time that he was taking his role as "family patriarch very seriously." Mark, our second son, his wife Stephanie, and their twin children, Jackie and Sara, have come from San Diego, CA, to be here today because Uncle Ira was so important to them. Jonathan, our youngest son, and his wife have a new baby, or they would be here also. Jonathan loved Uncle Ira very much, too. As an audiologist, he was able to help Ira with his hearing aids.
The National Lawyers Guild NYC Chapter, 68th Anniversary Dinner, Honoring Ira Gollobin (and Saluting the Chapter's Immigration Lawyers and Advocates), 2005: With perhaps, and I'm guessing, 500 people in attendance, including many in our family, it was a culmination of my Uncle Ira's lifetime of brilliant legal work on behalf of immigrants, perhaps the most vulnerable sector of our American melting pot. I videotaped Ira's entire keynote address to the Guild and guests. It was a magnificent address in which he presented his philosophical views of civil liberties, and of how "basic human values [tie in with] cherished national traditions." Ira's daughter, Ruth, has the video tape, and would gladly lend it for viewing.
Uncle Ira was the last of my parents' generation: for me, an extraordinary and profoundly good group of human beings.
Posted by admin in : Ira, Testimonials , comments closed
Joel Truman
New York, NY
Ira was a wonderful person and dear friend to me and my wife Sara. We miss him greatly but take consolation in knowing that he was healthy until the very end. We will always cherish his strong commitment to making the world a better place for the disadvantaged.
Posted by admin in : Ira, Testimonials , comments closed
Janet Higbie, Chelsea, NY
I came to know Ira and Ruth fairly recently, when I was in my last year at New York Law School, and he was a young man of 93. I was researching Kong Hai Chew v. Colding, one of Ira's greatest cases, and I was fascinated to listen as he talked for hours about his life and work. One line in particular has stayed with me from those talks.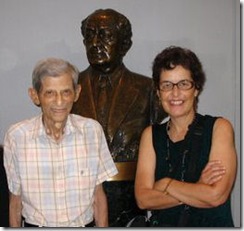 Ira, like others in the American Committee for the Protection of the Foreign Born and the Lawyers Guild, represented clients called before the House Un-American Activities Committee in Washington and its New York State counterpart in the 1940s, '50s, and '60s. There was a continuing debate among the lawyers about how to handle their clients' predicament: If they testified that they had done nothing wrong, they would be jailed for perjury; if they refused to answer certain questions, they would be found in contempt; if they invoked the Fifth Amendment, they sounded like criminals.
Ira and some of his allies came up with a strategy that essentially turned the tables. Since the committee was ignoring the principle of relevance, they would too. At mock hearings, they prepared their clients to confront the committee members with questions about their voting records, lectures on the Constitution, and free-association riffs on any question they were asked. One client, asked to state his name for the record, answered, "My mother named me Patrick, because St. Patrick chased the snakes out of Ireland!" This would enrage the committee, and Ira would be asked to control his  client; he would just shrug and try not to laugh. Eventually, the client would claim the Fifth, but not without lecturing the committee on its purpose, to protect people from false accusations.
Ira summarized the HUAC-baiting strategy with a wry rhetorical question. "It's a game of cat-and-mouse," he said, wagging his finger. "But who is the cat and who is the mouse?" I love that line, and find inspiration in it, because it encapsulates the determination, resourcefulness, and humor that carried him through dark times.
My other favorite memory is more recent. When Ruth fell ill, Ira, then 96, threw himself into caring for her, approaching the problem like a legal case — reviewing the options, researching the medical aspects, conferring with experts, and hiring a top-notch lieutenant, Wendy Clarke. Still, he found the energy to keep up his reputation as a ladies' man, though in actual practice that involved nothing more than heavy-duty flirting and big hugs to friends of any gender. One day this January, I was at St. Vincent's, where a small crowd, including Jocelyn McCalla, the long-time Haitian rights advocate, had gathered to try to help Ira help Ruth, who was barely conscious. After a half-hour, I headed down the hall with Jocelyn to go out for a bite to eat and some computer advice. Ira, feigning envy, waved his hands in the air and called after us, "Oh, to be 90 again!"
Posted by admin in : Ira, Testimonials , comments closed
Sara Lustigman
New York, NY
I first met Ira in his office on Broadway in the early '90s when I wanted to ask for his help in obtaining a green card. After explaining my situation, Ira gave me a very careful and professional explanation of how we would go about applying for it. As I got ready to leave, Ira stepped around his desk and gave me a big hug, letting me know everything would be all right.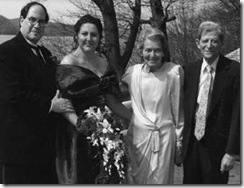 "This is no ordinary New York City lawyer," I thought to myself. My suspicion that I was dealing with a unique individual was confirmed when I asked Ira about his payment policy. Being both new in the City and not making very much money, I needed to know how much cash I would have to provide up front. However, when asked, Ira simply said, "You don't pay anything until I start meeting my milestones at every stage of the green card process." "Wow!" I thought, "The stereotypes about avaricious lawyers seeking billable hours sure don't apply here."
Every time I had a subsequent appointment with Ira, I was greeted with a big hug. Grateful as I was for the reasonableness of Ira's fee schedule, I wasn't fully sure what those hugs meant. But it's a testimony to Ira's sincerity and humaneness that I soon came to cherish them. Visits to Ira, a warm and caring human being, took me away from the pressures of my lab; in those days they were the highlight of my week. I soon became fast friends with Ira and Ruth, who sometimes tried to fix me up with eligible bachelors! Although the matchmaking didn't quite work, after Joel and I married, we continued to get together with Ira and Ruth periodically. It seemed like they always knew the most interesting restaurants and we always had the most stimulating conversations and discussions with them.
It also became apparent that the help that Ira provided to me was far from an isolated case. Not only did he assist several of my friends and colleagues from the New York Blood Center with their immigration needs, it was clear that Ira had helped thousands of people in a similar way, many of them far more disadvantaged than my band of young scientists. Over time, we learned just how much Ira had worked to assist persecuted individuals from all over the world in obtaining asylum. You could always count on him to stand up to the various hysterias of the moment which always seem to target the most vulnerable people in society.
My husband and I are extremely proud and fortunate to have known Ira and Ruth and be considered their friends. We just hope that in a small way we can carry on with their legacy and their spirit.
Posted by admin in : Ira, Ruth, Testimonials , comments closed
Hara Ann Bouganim Alexandria, VA
(daughter of Beatrice Gollobin Lowenthal & Milton Lowenthal)
My uncle Ira taught me values, by example.
JUSTICE: One family story is of Ira at three in a corner, saying "Ira bad boy." Nobody knew why. He knew what was right, as he proved his whole life in his immigration work.
LOVE: Memories of Ira hugging and dancing with Esther in the kitchen at Rockaway in the '50s. Much later, we all marveled at his and Ruth's poetic vows when they wed.
LOYALTY: On Ira's visit to me in 1995, after my losses and gall bladder operation, he made me feel protected. Then, in 1997, Ira flew to Indiana to spend hours with his sister Bea on her last day; such a gift to her. Finally, in summer 2007 he and Ruth came to Indiana for Mike's [Lipschutz] retirement, not an easy trip.
HEALTH: Ira told me I'd have health and long life when I desired food that was good for my body, advice he lived by. Another family story tells of Ira waylaid by blackberries on bike trips with his brother Bill in the '30's. Into his eighties and nineties, he'd hug so strongly he'd pick me up, saying that's why he worked out, to hug … and carry a suitcase, and he did.
While Ira could never convince me of the centrality of dialectical materialism, he taught me much more. He was the last of his generation in my family. I can only hope his legacy will be one of health, justice, loyalty, and love.
There was to be a memorial in honor of Ruth, but Ira died days before the service, so they're together, appropriately so. Ruth was a wonderful "second life" partner for my Uncle Ira, sharing experiences, commitment, and love. Her life was fully experienced, with passion for justice, theater, photography, art. Her last years robbed her of options, but not of her sense of humor or dignity. She made me a stronger person, and I will miss and remember her.