About
This web site celebrates Ira and Ruth Gollobin, two extraordinary individuals who identified with the poor and the downtrodden, embraced their cause, and remained true to their beliefs and principles until their last breath.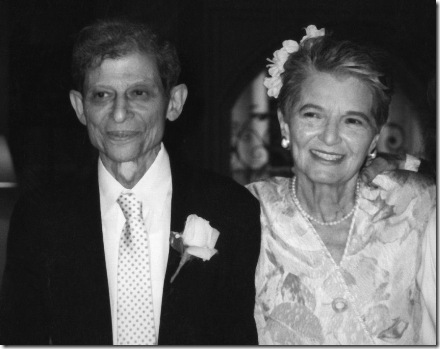 RUTH BAHARIS GOLLOBIN
DECEMBER 23, 1926 – FEBRUARY 17, 2008
Died peacefully on February 17th after a brief illness. Beloved wife of Ira, "Ruchel" to cherished cousins Mary Mazur, Josephine Mazur, Bonnie and Sarah West, Eva Siegel, Bill, Hamish and Adam Norton, and Jay Axelbank. Caring stepmother to Ruth and Peter Basta and Jeanna and George Beker; devoted grandmother to Matthew and Caitlin Basta and Emily Beker. Longtime friend to Freda Birnbaum, Ruth Selman and Jerry Sider. Ruth was a courageous lifelong activist for fair treatment of immigrants and for a socialist society. She had a love of Yiddish literature, classical music, paintings, anthropology and photography, and adored babies and cats! Ruth will be greatly missed by those whose lives she enriched, both here and abroad.
IRA GOLLOBIN
JULY 18, 1911 – APRIL 4, 2008
Passed away peacefully on April 4th. Predeceased by loving wives Esther and Ruth. Devoted and loving father, grandfather, uncle and great-uncle. A practicing and brilliant immigration and civil rights attorney for more than 70 years, Ira dedicated his entire life-with integrity—to championing the rights of immigrants. He was a "national treasure." A humble man, Ira will be remembered by the thousands of lives he touched, for his gentle unassuming manner, his extraordinary intellect, and his courage. Our sorrow and loss are as deep as our commitment to live and work as he tirelessly did for humanity's struggle for emancipation.