Posted by admin in : Ira, Ruth, Testimonials , trackback
Erica Smith
New York, NY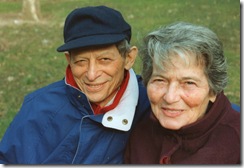 I've lived in Hillman for five years and have very fond memories of Ira and Ruth. My boyfriend John and I ran into Ira and his daughter Ruth once when they were on their way to the farmer's market to get fish. We live in the same apartment that they lived in on the 12th floor before they moved to the 10th floor.
I often saw Ruth in the elevator and she was always so gracious. Once I loaned Ira an umbrella when he was on his way out and I was on my way in and it had started raining. He promised to return the umbrella, and lo and behold, later that night there was a knock on my door. After handing me the umbrella, he offered a charmingly formal introduction, and signed off with "I think this is the beginning of a beautiful friendship . . . "
Both Ira and Ruth made me feel so welcome here, and I will always remember them.