Posted by admin in : Ira, Ruth, Testimonials , comments closed
Josh Lipschutz
Bala Cynwyd, PA
Sitting in Shul two weeks ago with my parents, Mike and Linda Lipschutz, my wife Lisa and our three children, Hannah, Benjamin, and, as of one month ago, Jacob, I was inspired by a passage. I hadn't planned on saying anything today, content to let my mom, Ira's niece, the daughter of Ira's sister Beatrice, represent the family; however, I think this is worth telling.
The section of the Bible we were reading two weeks ago was Hukkat, and there were several notable deaths in that chapter, including Miriam, Moses's sister, and Aaron, the high priest and Moses's brother. As it is written in Numbers 20:24, when the Israelites reached Mount Hor, which was next to the Promised Land, which neither Moses nor Aaron were going to be allowed to enter, G-d said to Moses and Aaron, "Yaasafe Aaron el-Amo". The Hebrew is translated as, "Let Aaron be gathered to his kin…" The commentary in the Etz Hayim Chumush interprets this as "Let his good qualities now enter the souls of those living who knew him, that those qualities not be lost after his death." And I think that's what we are doing here today. We are letting the good qualities of Ira and Ruth now enter the souls of those who knew them, that these qualities not be lost even after their deaths.
And what are those qualities? I'll mention a few that stand out for me. I remember Ruth as a woman who loved the world. It has been said that anybody who is not a Communist at age 18 doesn't have a heart. Ruth had a great heart and, I believe, remained a Communist, in the best sense of the word, long after age 18. I remember telling her after 9/11, that I was joining the army, and her getting very upset and crying. Even though I was joining as a doctor, she hated the concept of armies and war. The world needs people like her.
And Ira, ah, so many good qualities. To mention a few, he was a brilliant thinker and the father of a new field of law, Immigration Law, which I'm sure others, who are expert in this area, will tell you more about. Ira was also a dedicated family man and always kept in close contact with the exiled Indiana branch of my family. Though advanced in years and somewhat frail, Ira and Ruth made the trek to San Francisco for my wedding in December of 2000.
Interestingly, sometimes public and private worlds collide. At our wedding, my wife's Aunt, Barbara Hines, who is a Professor of Immigration Law at UT Austin, met Ira and remarked that it was like meeting a legend. So to paraphrase that greatest of books, the Bible, "Yaasafe Ira Varut el-Amo." Let Ira and Ruth be gathered to their kin.
Posted by admin in : Ira, Testimonials , comments closed
Muzaffar Chishti
New York, NY
Ira was special to so many of us in so many ways. To me he was not only a brilliant lawyer, but one of the wisest men I had the honor of knowing. Chats with him were a treat. He was sweet enough to have two long phone chats with me after Ruth's passing. I knew that I couldn't force a meeting until he was ready. But I can tell you how fortunate I feel that I had a long dinner meeting with him while Ruth was in the hospital. Yes, indeed, it was the night when I ran into his daughter Ruth and Carol Smith outside Ruth's room. We went to a Turkish restaurant (where the maitre d' had been a client of his) and discussed everything from Ruth's impending departure to the importance of John Adams. Ira never ceased to impress me with his thirst for new intellectual pursuits. Only last year, he asked me to give him a list of books and other readings so that he could begin to have a better sense of India — not its past (which many are preoccupied with), but its place in the future of humanity. With all that he knew, he never stopped learning.
Posted by admin in : Ira, Testimonials , comments closed
Rulx Jean-Bart
Miami, FL
Dear Ruth [Gollobin-Basta]:
I can definitely say that my encounter with your father changed the direction of my life. I was a young man who had just finished grad school when I met your father in 1976. If I am in Florida today it is partly due to your father. I can still visualize that life-changing day, a late afternoon/early evening meeting with Ira and Father Adrien in a restaurant somewhere in Manhattan (maybe in Times Square). I think Ira was a "usual" there. That evening, they made me a scary offer that I could not refuse. I was asked to go to Miami to help the burgeoning Haitian refugees' movement. My task, if I should accept, was to assist in organizing the Haitian refugees so they might play a leadership role in their own struggle. I was also asked to help organize support groups for the Haitian refugees and to assist the Haitian Refugee Center in becoming administratively and fiscally more responsible.
I knew nothing of Miami and I had just graduated from school. However, your father's enthusiasm, passion, and commitment to the success of the cause made my decision easier. Through him I realized that I was becoming part of a movement that would protect, support, and guide me. That is why I left the comfort of my home to go to Miami with only two or three contact names and a lot of apprehension.
Your father, Ira, helped build a great movement that benefited millions of people and at least one country. But less than a thousand of those who benefited knew what he did! Ira and Father Adrien, on behalf of the Haitian refugees, put together a dream team of non-Haitians that had Ira Kurzban, Sue Sullivan, Betty Wigs, Mike Hooper, Rick Swartz, Peter Schey, and many others that helped with the legal and political aspects of the struggle. He did all that without being in the limelight. The interesting thing about your father is the fact that he sought causes, but never the spotlight as so many do. He was the invisible force, the strength behind many struggles. He chose to be in the background, in the shadow of those he supported, side by side, never in front, until the final victory. He was one of the backbones of the movement. Like an earthquake, your father could be felt thousand of miles from his epicenter (his office), although only those next to him could see him. Your father's ability to build and support causes passionately and diligently without overpowering them made him a great and admired man.
I hope I shed some lights for you on your father's past.
Posted by admin in : Ira, Ruth, Testimonials , comments closed
Drs. Amir and Halel Ansari and Family
Pleasantville, NY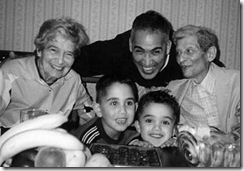 Ira was my "American Dad." He was my immigration lawyer when I was in residency at Methodist Hospital in 1994. We soon became close friends. Ira and Ruth came to my wedding in 1998. We visited each other at my Westchester home or in the city a few times a year. When my father came to America, I introduced Ira to my father as, "my Dad in America." He was a great and caring man. Ira went beyond what he needed to do to help others. For instance, it was in the middle of the summer on a hot and humid day. I informed him that I needed to go to the INS to give them a copy of my documents. Despite knowing that this was a simple issue, he left his office practice and walked with me to the INS! He wanted to be sure the job was done. I will always remember his compassion.
Ruth was an exceptionally knowledgeable and wonderful person. However, the one thing I will never forget is how she interacted with my children. When Ruth was surrounded by children she was passionate, sensitive, patient, kind, and a good teacher.
We feel that we were lucky and honored to know these two wonderful individuals.
Posted by admin in : Ira, Testimonials , comments closed
Mahmoud Sayratiezadeh
Brooklyn, NY
Dear Ruth [Gollobin-Basta],
Forgive me for writing late to you to extend my sympathies. Nothing I could say could soothe your loss. Your father was a remarkable human being. He was knowledgeable and competent about his profession, helpful to people who required his help, and he did it with understanding, sympathy, and wit. His sense of humor reflected his humanity and also his great intellect. He knew much of world history, philosophy, and science. He was concrete, precise in his thinking, and yet dialectical as he explained his thoughts. Ira was cultured and respected and enjoyed all cultures. And all peoples. He was one of the few people one meets in a lifetime whom one cherishes having known. Please accept my condolences for this great loss.
Posted by admin in : Ira, Ruth, Testimonials , comments closed
Yuka Hirata and Mark Blackshear
Brooklyn, NY
Ira and Ruth were indeed like my and my wife Yuka's surrogate grandparents. They always treated us kindly. We remember and appreciate the few times we met them for lunch or dinner, as well as the hospitality extended to us at their home. They witnessed our wedding ceremony in December of 2002, and we considered it a great honor.
Ruth was a photography student, and I loved the glee she expressed showing off a portrait of Ira she had taken by a lake at a country retreat. She and Ira were rather proud of it. I totally enjoyed it when Ira would start telling some of his stories; the tales regarding his legal exploits were priceless. I regret the fact that I can no longer enjoy his oral history lessons and his gems of enlightenment.
We remember Ruth and Ira as truly beautiful and loving folks. Yuka and I shared a genuine fondness for them. They made us feel like they felt the same for us — by the way they always smiled and often laughed when we were with them.
Posted by admin in : Ira, Testimonials , comments closed
Sara Lustigman
New York, NY
I first met Ira in his office on Broadway in the early '90s when I wanted to ask for his help in obtaining a green card. After explaining my situation, Ira gave me a very careful and professional explanation of how we would go about applying for it. As I got ready to leave, Ira stepped around his desk and gave me a big hug, letting me know everything would be all right.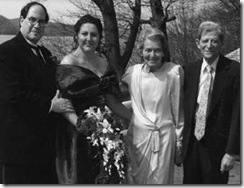 "This is no ordinary New York City lawyer," I thought to myself. My suspicion that I was dealing with a unique individual was confirmed when I asked Ira about his payment policy. Being both new in the City and not making very much money, I needed to know how much cash I would have to provide up front. However, when asked, Ira simply said, "You don't pay anything until I start meeting my milestones at every stage of the green card process." "Wow!" I thought, "The stereotypes about avaricious lawyers seeking billable hours sure don't apply here."
Every time I had a subsequent appointment with Ira, I was greeted with a big hug. Grateful as I was for the reasonableness of Ira's fee schedule, I wasn't fully sure what those hugs meant. But it's a testimony to Ira's sincerity and humaneness that I soon came to cherish them. Visits to Ira, a warm and caring human being, took me away from the pressures of my lab; in those days they were the highlight of my week. I soon became fast friends with Ira and Ruth, who sometimes tried to fix me up with eligible bachelors! Although the matchmaking didn't quite work, after Joel and I married, we continued to get together with Ira and Ruth periodically. It seemed like they always knew the most interesting restaurants and we always had the most stimulating conversations and discussions with them.
It also became apparent that the help that Ira provided to me was far from an isolated case. Not only did he assist several of my friends and colleagues from the New York Blood Center with their immigration needs, it was clear that Ira had helped thousands of people in a similar way, many of them far more disadvantaged than my band of young scientists. Over time, we learned just how much Ira had worked to assist persecuted individuals from all over the world in obtaining asylum. You could always count on him to stand up to the various hysterias of the moment which always seem to target the most vulnerable people in society.
My husband and I are extremely proud and fortunate to have known Ira and Ruth and be considered their friends. We just hope that in a small way we can carry on with their legacy and their spirit.
Posted by admin in : Ira, Testimonials , comments closed
Joel Truman
New York, NY
Ira was a wonderful person and dear friend to me and my wife Sara. We miss him greatly but take consolation in knowing that he was healthy until the very end. We will always cherish his strong commitment to making the world a better place for the disadvantaged.
Posted by admin in : Ira, Testimonials , comments closed
Guy Sansaricq
Roman Catholic Auxiliary Bishop of Brooklyn,
National Director of the Haitian Apostolate
Brooklyn, NY
Dear Ira,
I do not contact you easily yet I assure you that you are one of the people that I hold in highest esteem and affection. Your total dedication to the cause of Haitians has always deeply inspired me. You are a man with a big heart.
I feel very close to you as you mourn the departure of your good wife Ruth. It's one of those moments in life that we dread but cannot prevent.
I do not dare offer you any special reflection or advice, as I know you are a wise man who certainly has his own appreciation of life's moments.
I simply want you to know that in your large circle of admirers there is also one in Brooklyn who values you as a true friend and feels very close to you these days.
Posted by admin in : Ira, Testimonials , comments closed
Mary Mazur
New York, NY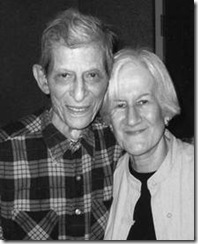 Ruchl's mother and my mother were sisters. Before Ruchl's illness I didn't know Ira very well. We would see each other a few times a year at family gatherings or going out for dinner. During Ruchl's illness I got to know a man of integrity who was a private person, shy and modest, considerate to a fault, and tireless in his devotion to Ruchl.
While still at home, as Ruchl declined, Ira's days were filled with sickroom chores, shopping, cooking, and major decisions; only then did he finally (after much prodding) seek help. He found Wendy Clarke, Ruchl's patient, loving caregiver.
During Ruchl's hospitalization, Ira's daughter Ruth spun into action, anticipating Ruchl's needs, reorganizing the apartment, buying whatever was needed for Ruchl's care and comfort, and taking care of her father, who often forgot to take care of himself. Ruchl's homecoming was not to be.
In the hospital Ira would sit for hours and hours each day — he didn't want Ruchl to be alone. He sat holding her hand under the covers as friends and family came and went. Ira was constant. Based on information from the doctors, he was forced to make agonizing decisions. He spoke to those close to Ruchl and asked their opinions. "I want to do the right thing," he said.
In preparation for her memorial he knew exactly how he wanted to honor and cherish her memory. I now knew a man for whom I have deep affection — a dear, dear man.