Posted by admin in : Ira, Testimonials , trackback
Sara Lustigman
New York, NY
I first met Ira in his office on Broadway in the early '90s when I wanted to ask for his help in obtaining a green card. After explaining my situation, Ira gave me a very careful and professional explanation of how we would go about applying for it. As I got ready to leave, Ira stepped around his desk and gave me a big hug, letting me know everything would be all right.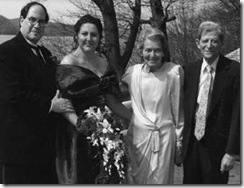 "This is no ordinary New York City lawyer," I thought to myself. My suspicion that I was dealing with a unique individual was confirmed when I asked Ira about his payment policy. Being both new in the City and not making very much money, I needed to know how much cash I would have to provide up front. However, when asked, Ira simply said, "You don't pay anything until I start meeting my milestones at every stage of the green card process." "Wow!" I thought, "The stereotypes about avaricious lawyers seeking billable hours sure don't apply here."
Every time I had a subsequent appointment with Ira, I was greeted with a big hug. Grateful as I was for the reasonableness of Ira's fee schedule, I wasn't fully sure what those hugs meant. But it's a testimony to Ira's sincerity and humaneness that I soon came to cherish them. Visits to Ira, a warm and caring human being, took me away from the pressures of my lab; in those days they were the highlight of my week. I soon became fast friends with Ira and Ruth, who sometimes tried to fix me up with eligible bachelors! Although the matchmaking didn't quite work, after Joel and I married, we continued to get together with Ira and Ruth periodically. It seemed like they always knew the most interesting restaurants and we always had the most stimulating conversations and discussions with them.
It also became apparent that the help that Ira provided to me was far from an isolated case. Not only did he assist several of my friends and colleagues from the New York Blood Center with their immigration needs, it was clear that Ira had helped thousands of people in a similar way, many of them far more disadvantaged than my band of young scientists. Over time, we learned just how much Ira had worked to assist persecuted individuals from all over the world in obtaining asylum. You could always count on him to stand up to the various hysterias of the moment which always seem to target the most vulnerable people in society.
My husband and I are extremely proud and fortunate to have known Ira and Ruth and be considered their friends. We just hope that in a small way we can carry on with their legacy and their spirit.