Posted by admin in : Ruth, Testimonials , trackback
Dr. Krystyna Domurat Warsaw, Poland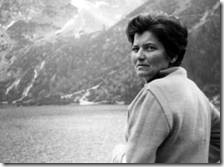 Ruth was my close friend for many years. We met in a sanatorium in Ciechocinek. She worked in the editor's office of Polish Radio and I worked for the Polish Academy of Science. Beyond our friendship we translated together into English some research work. Thank goodness Ruth's research was faultless and invaluable in the international scientific market.
During Ruth's stay in Poland, we spent a few holidays together, mostly in the mountains. After her departure from Poland, I visited with her in Copenhagen, where I stayed for a month in 1971. Some time after she returned to the U.S., Ruth invited me to New York, where she came to live with her second husband, Ira Gollobin.
In spite of a huge distance, our friendship was still favorable and hearty and we were keeping up with correspondence and phone calls. It is very sad to me that Ruth is gone.