Posted by admin in : Ira, Ruth, Testimonials , trackback
Drs. Amir and Halel Ansari and Family
Pleasantville, NY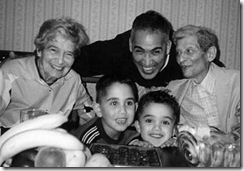 Ira was my "American Dad." He was my immigration lawyer when I was in residency at Methodist Hospital in 1994. We soon became close friends. Ira and Ruth came to my wedding in 1998. We visited each other at my Westchester home or in the city a few times a year. When my father came to America, I introduced Ira to my father as, "my Dad in America." He was a great and caring man. Ira went beyond what he needed to do to help others. For instance, it was in the middle of the summer on a hot and humid day. I informed him that I needed to go to the INS to give them a copy of my documents. Despite knowing that this was a simple issue, he left his office practice and walked with me to the INS! He wanted to be sure the job was done. I will always remember his compassion.
Ruth was an exceptionally knowledgeable and wonderful person. However, the one thing I will never forget is how she interacted with my children. When Ruth was surrounded by children she was passionate, sensitive, patient, kind, and a good teacher.
We feel that we were lucky and honored to know these two wonderful individuals.