Posted by admin in : Ira, Testimonials , trackback
Claire Hirsch, Los Angeles, CA
Dear Ruth [Gollobin-Basta],
You asked me about the background of my husband Dino's and Ira's friendship and I told you it would take too long to tell you when I was in New York. I want to tell you again how much it meant to me to stay in his apartment; to be surrounded by the marvelous library that was the background to all the thinking, writing, and teaching that he did!
Dino was an "armchair Marxist" and went to jail for having committed a capitalist crime in the export business which he had learned from his father in Italy. When he came home after having served eleven months of a "year and a day" sentence, he was confronted with deportation proceedings. It was then that he met your Dad because of a referral from a bail bondsman.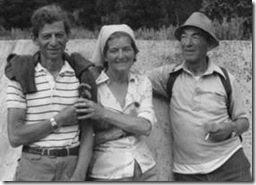 It was a lucky circumstance that he found Ira to defend him. They became friends soon (more like teacher and student in the beginning). They met every month or so in a restaurant in Greenwich Village and would talk. I soon joined them and at first was in awe at the level of their discussions!
Ira suggested to Dino that his condition in this country was not about to change, so he might as well get involved in trying to change things. He soon became active in his union and remained an activist until the day he died. Your mother Esther and I became close friends through our activity in the U.S.-China People's Friendship Association.
After we moved to California we continued to stay in touch, at first with visits to New York and then their final visit to L.A. when we drove them to Mexico to seek a cure for your mom's cancer. We were happy to welcome him to Aspen, Colorado, where we spent several of the most wonderful hiking vacations together, first with him alone and then joined by his [second] wife Ruth.
We talked by phone often and he managed to set into perspective whatever was going on in the world at the moment until a few months ago. I shall miss him sorely but am happy to have benefited from his friendship and knowledge for so many years!